The National Council for Women has embarked on an exciting endeavor to digitize classic savings and lending groups in collaboration with eAswaaq misr and the Egyptian Central Bank. This transformative effort will be made through "Tahweesha" digital application developed and powered by eAswaaq misr. This initiative falls under the umbrella of women's financial inclusion and aims to empower Egyptian women in rural villages economically and financially while integrating them into the formal banking system.
A recent meeting was held by the National Council for Women, with the presence of officials from the European Union and Central Bank, along with Eng. Ayman Shaarawy, Project Manager at e-Finance, and Eng. Mohamed Abdel Wahab, Director of Operations at eAswaaq misr, to discuss and showcase the progress made in "Tahweesha" project.
The project sets a target to reach 1.2 million women, forming approximately 60,000 savings groups and establishing 3,000 financial facilitators across the governorates of Egypt within a span of three years. The meeting shed light on the program's operations, outlining the steps taken to facilitate women's participation in these groups.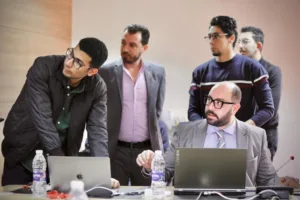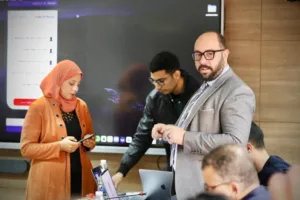 During the meeting, eAswaaq presented a demo that showcased how to use the application and a step by step the creation of saving groups on "Tahweesha" application, the initiation of a savings session, the process of linking electronic keys within the application, and the facilitator's assistance in recharging cards with funds for women.
"I am honored to have participated in such an event, showcasing a truly exceptional Egyptian experience in this domain," expressed Mohamed Abd Elwahab, Head of Business Solutions, Technology at eAswaaq misr. "The advanced financial inclusion implementation through an efficient digital approach, specially when supported by a real case involving the ladies in Behaira governance, has been a great success. It demonstrates the progress we have made in embracing technology for the benefit of Egyptian women in rural areas and promoting financial accessibility."